Camera mounting options are almost as numerous as the number of cameras available. To help you narrow the options down, the SecurePro Security Solutions Specialist will make indoor recommendations based upon the following options:
Required View
Mounting Surface Available
Space Within / On the Mounting Surface
Environmental Conditions
Likelihood of Being Damaged
While some of the characteristics above seem trivial, untrained installers often make mistakes by utilizing the improper mounts where there is a greater likelihood, for example, for static electricity. Some mounts are much better at diffusing and eliminating or reducing the threat from static than others, which can greatly enhance the life of a camera.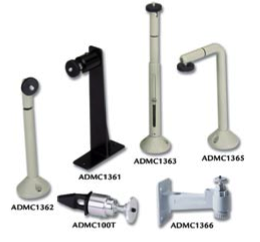 PLEASE UNDERSTAND: the purpose of any camera mount is:
To provide a stable base / arm to hold the camera at the proper view
To NOT DISTRACT from the existing fixtures and architecture.
Nearly all of our mounts have the ability to feed the cable in from behind so as to hide the majority, if not all, the cable. Your cameras should add value to your structure, not distract from it!
OUTDOOR HOUSINGS/MOUNTS
The climates we ask our cameras to work under are greatly varied. As such, you need to be able to protect them from the elements. From 100+ degree days, to 40 below, wind, dust, rain, snow, ice, birds, bugs, lightning…It all takes a heavy toll on your cameras.
The mounts and housings shown below are typical of those used outdoor in the U.S. Complete with a heater and blower to help maintain a steady climate for your electronics, to vandal resistance, powder coated steel and crystal clear lenses, these housings will make you feel like the camera mounted 500′ away in the warehouse is right in your office!